Discussion Starter
·
#1
·
Let the voting begin for the November 2011 Yamaha Rhino Ride of the Month! The poll will close in about 5 days and the winner will be announced on the front page.
GOOD LUCK EVERYONE!
1. gman1966347
On vacation In the Sierra Nevada's Fishing with the wife and Dawgs. Love the Rhino!!
2. my07rhino
Thanks to the forum!
2007 base 660 Rhino, formerly green
4 seater, bed modified for more passenger leg room
RYR conversion to 2008 Outlander 800
RYR alum fuel tank
RYR through shaft
Custom shift linkage (L,H,N,R and Park)
'09 intake
Dalton mudders clutch kit
Muzzy headers, fully wrapped, with 24" dual glasspacks
Powercommander PCV, trial and error tuning (12.8-13.2)
Full Autometer gauges and AEM afr
Livnlo wiring
Lonestar Mid Travel with worked over Walker Evans and custom rear springs
300m rear axles
Lonestar diff supports
Aluminum front and rear skid plates
Indestructible Cognito spindles
Beadlock wheels with 26" Bighorn 2.0's
Douglas red labels with Doonz
Custom install RuggedRadios mobile with intercom, Carbon HS, iPhone connect
Homebuilt cage
Custom aluminum roof
RZR front seats with custom seat belt grommets
Rear bench with headrests
HID conversion headlights
Checker 7" HID's
LED dome lights
Crow harnesses
Maier plastics
Odyssey PC925 battery
TCP RYR Radiator
Relocated oil cooler with fan
Welded ring gear bolts
Suicide doors
3. stock
Rhinocraft longtravel, Race edition Elkas(in cab res), Omf wheels, Muzzy's, 4 seat cage (by corona buggy) ,custom doors(built by Fu2 chassis designed by me),Sol tek hids, Hunsaker seats, 16grams weights,trinity sheave, Hunterworks and alba racing Mapping, Stage 2 cam, Crow 5 point belts, Odyssey battery, Msd, Black rhino dash, Lowrance gps,gearone rack,Summerbrother axles,Bighorns,Skat trak paddles and smoothies,custom mirrors,autometer o2 gauge
4. upongame
2007 Rhino
Custom Paint and body
Pro Armor Bumper and Skid Plates
ALBA Racing Stage 1 performance package
So Cal Long Travel
ITP Rims with ITP Tires...(except in back for dunes)
Pro Armor Harness's
J-Strong Industries Hood
5. Eclipse RV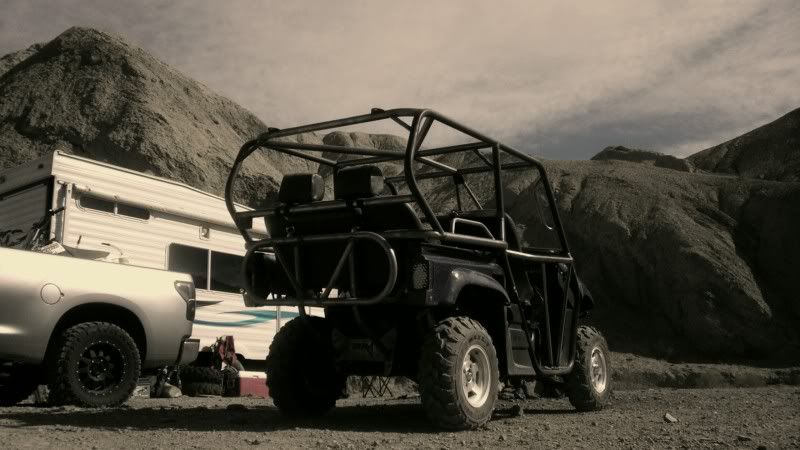 6. RicZ
07 660
CDI
UNI intake and filter
BS sand seats
Custom light switch holder / cup holder by ME
Custom roof by Terry
Bed delete by UTV Inc.
Custom bed by Terry
Custom Light bar by Terry
5 Checker HID
Headlight HID
Custom stereo by ME and this thing bumps the 10 inch sub...
Suicide doors by Inducted Fab
2 whips from Quick Lights
3 sets of tires and wheels (street, trail,dunes)
UTV inc sheave, purple spring and greasless weights
custom 2 seat cage
XMF long travel
some bling made by Terry
mirror from Unleashed UTV
Crow 5 point harnesses
Lowered seat bases by ME