Discussion Starter
·
#1
·
I've noticed that my new 2011 Rhino 700 will leak a little water into the belt housing if it's parked in water for a while, or even riding through longer stretches of deeper water. I'm not talking filling up the belt, just a cup here or there depending how long we sat in the water. I don't think water is just splashing up into the belt intake or exhaust vents...
Has anyone else had this issue? My buddy's 2011 Rhino seems to have the same issue...
The bikes are not snorkeled, but we are not driving in water over the top of the factory snorkels, just water about 3" or so over the floorboards. The factory snorkels look to be slightly higher than the base of the seats, so the only thing I can gather is that maybe a gasket or seal isn't keeping water out like it should. We never had problems with our Grizzlys, leaving them parked in water over the CVT cover for over 30 minutes at a time while washing the bikes or hanging out in the shade drinking a cold beverage. I'd like to be able to do the same with the Rhino. Like I said, the CVT isn't flooding, just getting enough in there to occasionally slip the belt if we don't check and/or drain it after being in the water for a while.
Is there something I can check or a place that commonly leaks that needs a dab of RTV sealant? We don't "go deep," but we do ride a fair bit of water and it would be nice not having to continually pick up the driver seat to see if any water got into the belt housing.
Thanks!
--------------
Here's a pic. It's not really what I had in mind but a situation where the CVT took on a little water, even though the snorkels are above the water line. I took out the driver seat to see where the water line was and I was good there. We were sitting there cooling off, and I got on the throttle a little too hard and went down in the sandy bottom.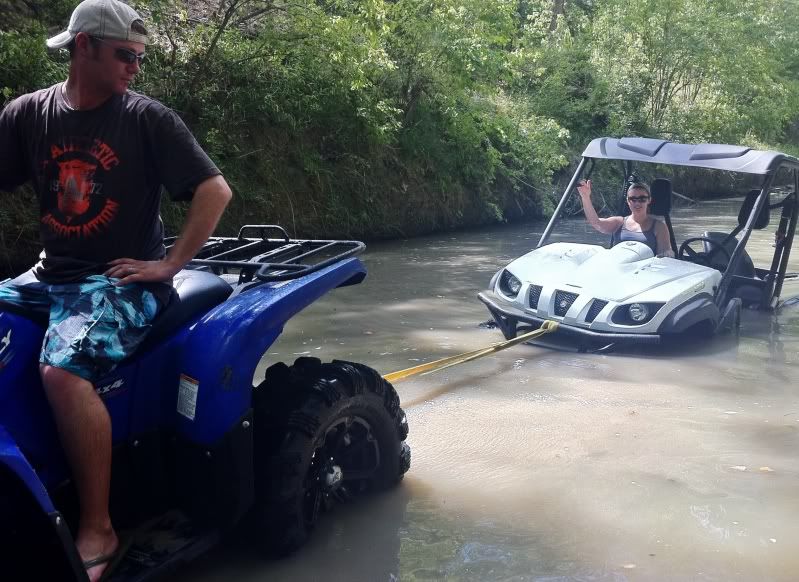 Here's what we would do with our Grizzlys, and we never had a single problem.