Discussion Starter
·
#1
·
Let the voting begin for the December 2011 Yamaha Rhino Ride of the Month! The poll will close in about 5 days and the winner will be announced on the front page.
GOOD LUCK EVERYONE!
1. dcfox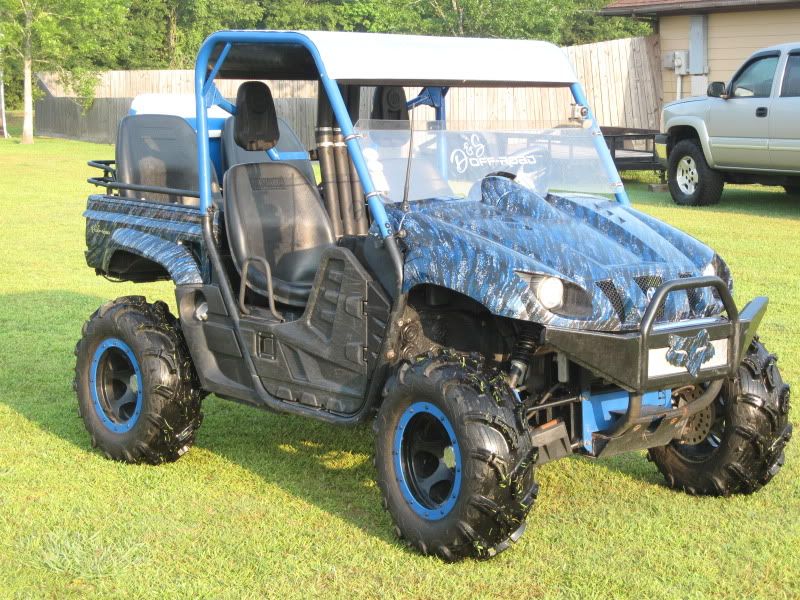 2007 Rhino 450
2" CFM lift(powdercoated blue)
FU2 front/rear chassis braces(powdercoated blue)
Quadboss front bumper
SuperATV bedrails
14" ITP Sportlocks(rings powdercoated blue)
28x11x14 Maxxis Zillas
Billet exhaust tip
4" chopped cage(powdercoated blue)
diamond checker plate top
Infinity 6x9's
10" Polk sub in a SSV Works box
300w Pioneer amp
Fusion Marine iPod radio
HID's
SuperATV steering wheel
Quadboss 1/2 windshield
Rhino seats in rear
custom cooler rack
Custom painted/hydrodipped plastic
Snorkels through the roof
GoPro camera
2. zoomer
D Perl
2006 660
B&A cage
PRP seats
LSR +3 w Bisteins
Gear One Axles, Steering Rack, Tie Rods, Steering wheel and other billet goodies
Harbor Frieght off road lights converted to HID
HCR leg minders and grill
Maier Black plastics
Procomm CDI
UTV Inc sheeve and 12g dry rollers(going to 14g)
Blue EPI spring
K&N filter
Stainless turn down exhaust tip
25x12x12 7 paddle and smoothies for the dunes
25x10x12 Bighorns for the trail & desert
7000 miles and still going strong....5000+ in the dunes
3. wink67
2008 700 EFI.. MODS: 2 brothers racing exhaust, UNI air filter, full Proarmor skids, warn 3K winch, 4 point harness's and cross bar, 26" terracross on 14" rims, hid lights, Dyna CDI Ignition, Dyna EFI fuel controller, Hunterworks Sheave, greaseless weights, and gold EPI spring.
4. jhauffen
2007 Rhino
Motor/Drivetrain
RYR kit
RYR aluminum fuel cell
07 Rotax with FCP 940 jugs
FCP trail cams and valve springs
CVTech primary clutch
Airdam machined secondary
UMP air filter
Muzzy rotax dual exhaust
Tune Monster fuel management
Custom wiring by (livnlo)
VW diveshaft CV mod
TCP rotax radiator w/ spal fan
TCP oil cooler w/spal fan
Gorilla axles all around
08 rear disc brake mod
Mason Motorstports +6 longtravel
Fox shocks w/remote resi and compression adjustable
rear 26" STU Blasters on 12x10 DWT polished wheels
front Doonz stitched smoothies on 12x8 DWT polished wheels
Interior/Exterior
Autometer ultra light II gauges
Rugged Radio in car and car to car
Custom steering wheel
MasterCraft seats
Custom cage and bumpers modified by me
Fullbore fiberglass knockoffs
Aluminum vinyl lined panels
Dome lights
40" SR Rigid led bar
10" SR Rigid led bar
2 Safeglow 4' led whips