Discussion Starter
·
#1
·
Contact: Papaian Enterprises
Marketing For
Black Rhino/ParamountMotorsports
Tel.: 951-805-1017
Email:
[email protected]
www.blackrhinoperformance.com
www.ParamountMotorsports.com

"Driver Cody Rahders wins the 2012 worcs utv production 700 Class championship/ Black Rhino drivers up on the podium in all three utv classes at honolulu hills intaft, ca"
​
09/20/12 El Cajon, CA – The team at Black Rhino congratulatesCody Rahders on his WORCS UTV Production 700 Championship and all of the BlackRhino drivers on a job well done this weekend!
Going into Round 8 ofWORCS Cody Rahders had gone from fourth place early in the series to leadingthe points chase by eight going into the final round. With Cody in the only 570on the line amongst 6 Rhinos the last race of the series was not going to beeasy.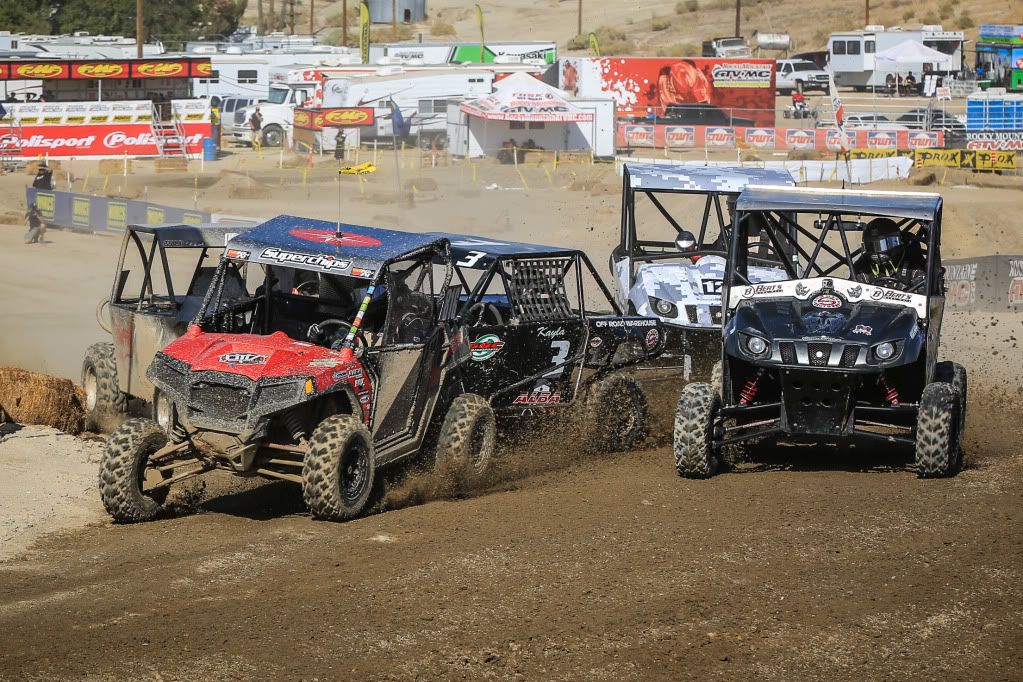 The green flag flew and Cody got the holeshot only to be passed twoturns later. "Kayla (Smith) doubled ajump, I rolled but I needed to play it safe and think title." Rahders recalled. He then stuck to her rearbumper waiting for a mistake when something let go in the rear. Rahders continued, "I knew a place to try are-pass for the lead so when I was setting up for it I landed weird off a jump,was on the gas a little too much and something broke."
With the #816 now driving in 3 wheel drive and needing to finishfourth place or better to secure the championship Rahders let the leaders goand went into survival mode. He maintained a steady pace and finished out therace in 3rd place in class and the 2012 Production 700 classchampion!
"What a season, to go from fourth in points to winning the title, awesome.There is no way we could have done it without our sponsors, thanks everyone!" Codyand R3motorsports would like to thank everyone that helped us with the RZR570this season; Black Rhino Performance , Polaris Industries-the RZR570, CognitoMotorsports, **************, Superchips, Team Alba Racing, Fox Racing Shox, K&N, Toyo Tires, American Star Racing, RacerXMotorsports, SFI Designs & Fabrication, Benchmark Performance, SuperLiteChampionship, Frosty Burger Pine Valley, Diffenbaugh Construction, WholesaleFuels, Mystik Lubricants, ProArmor, JDMfotos, Troy Patterson and mom and dad! The team at Black Rhinocongratulates Cody Rahders on his Championship!
Alsoin the Production 700 Class was Michael Gonzales driving the Black Rhino #626. "Therace started out great; I was third out of the hole and held it strongly as Ipaced fellow Black Rhino driver Cody Rahders in the 816. On our second lap through the rugged backsection I broke the lower right A-Arm and dumped the car on its side."Gonzales recapped. "I can't thank all my sponsors enough for all theircontinued help this year;
BlackRhino, Ernie the Attorney, Ed the Suspension Guy, Triumph Motorsports, RichardCota & ASAP Powersports, Mitch's Automotive, Ryan Dow from Dow Hydraulics,Alba Motors and my family"
Gonzales finishes the season in 7thin championship points out of a field of 14. Congratulations to Michael Gonzales on a great season!
In the Production 850 Class, Bryan Osborn put Black Rhino onthe podium with a 3rd place finish. Osborn ended the season 10th in championship points. "Thank you to all of my sponsors for a greatseason; Black Rhino, Racer X, Rigid Industries, Kal-Gard, Papaian Enterprises,Doetsch Tech, SFI Designs, UTV Underground, K & N Performance. I couldn't do what I do without your support"Congratulations to Bryan Osborn for a job well done!
In the
Production 1000 Class
driver
Greg Row
in the
#1
took home a 3rdplace podium finish putting Black Rhino on the podium. "
What an awesome weekend in Taft!Thanks to Black Rhino, Alba racing,
Pro-Atv,
RND
, D
WT,
Motoworks, UNI,
M
axima and RacerX for anincredible race car!
Finished 3rdout of 28 Class 1 cars. Was the first to do the big step up thanks to Joshgiving me confidence to huck that huge jump
, w
as Crazy! So proud of Josh too,didn't get the finish he wanted, but passed JFred straight up and was charginghard until he
lost the rear brakes
" Row said. Row ends the season 7th in
championship points out of a verycompetitive field of 46. The team at Black Rhino congratulates Greg Row on agreat season!
At Black Rhino Inc. we have apassion for Side X Sides that is unmatched by anyone in our industry. We offertons of products for ALL Side X Sides and a full showroom and website for yourshopping convenience. We have a full service and installation center, anon-site fabricator, and a sales staff that is ready to help make yourdream Side X Side a reality.
Visit us today at 9303 Bond Ave.El Cajon, Ca. 92021 or log onto our website at
www.blackrhinoperformance.com
.You can also visit them on Facebook at
www.facebook.com/BlackRhinoFanPage
.
Black Rhino: Setting the trend for today's
EXTREME
Side X Sides.
​
For more information about WORCS,please visit their website at
www.worcsracing.com
Driversneeding help with logistics or more info can contact Kenny Osborn at 619-561-5000or email him at
[email protected]
.
For more information,please contact
PapaianEnterprises
, Marketing for BlackRhino at 951-805-1017 or email
[email protected]
.
​